Arroz con Gandules

---
Arroz Con Gandules (Puerto Rican Rice with Pigeon Peas)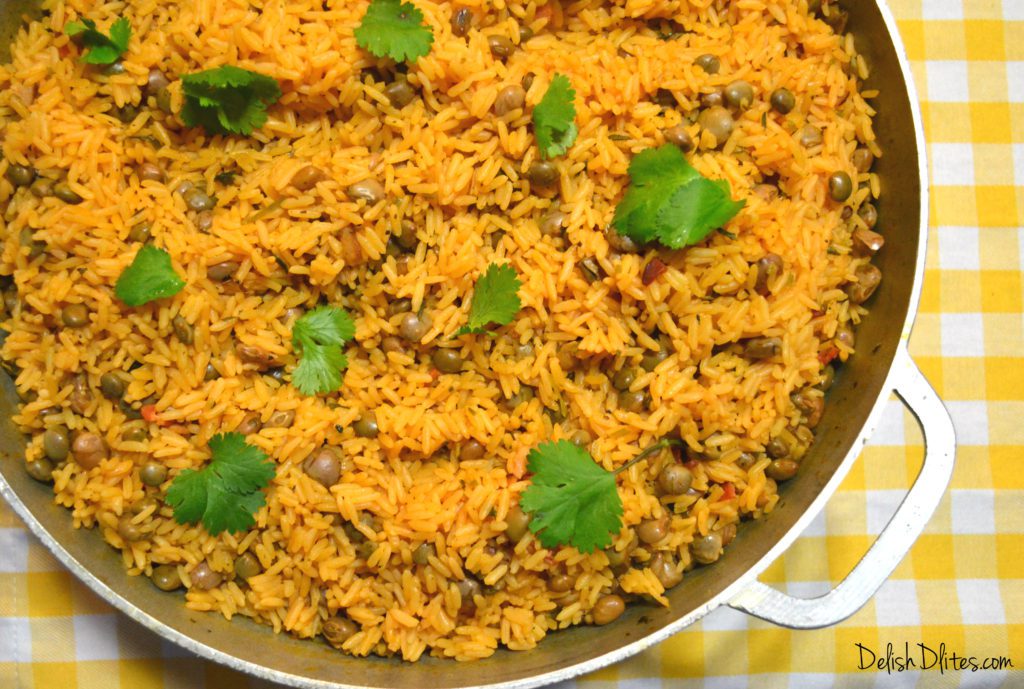 INGREDIENTS
1 tablespoon extra virgin olive oil.
⅓ cup sofrito (homemade is best!).
⅓ cup country ham or bacon, chopped (optional).
2 cups parboiled rice
3½ cups water or low sodium chicken broth.
1½ teaspoons sazon con achiote y culantro
2 teaspoons powdered chicken bouillon
Goya Adobo Seasoning
⅓ cup tomato sauce.
2 tablespoons pimento stuffed olives.
¼ cup fresh cilantro, chopped.
2 bay leaves
1 15oz can Pigeon Peas/Gandules, draned and rinsed.
DIRECTIONS
Heat your caldero or Dutch oven to medium heat, and add your olive oil, ham (or bacon) and sofrito.
Stir constantly until fragrant and tender, but not browned, about 4 minutes.
Next Add in the Sazon, tomato sauce and chicken bouillon. Stir to combine.
Add the water, Italian seasoning, colatro, bay leaves, and olives.
Allow the liquid to come up to a boil, and taste it for salt. If it needs more, add a sprinkle of Adobo until it's well seasoned.
Add in the drained pigeon peas, then bring the mixture back up to boil.
Once the mixture is boiling, add the rice.
Stir the rice to get it submerged and distribute the pigeon peas throguhout.
Allow the rice to absorb all the visible liquid, uncovered.
Once most of the visible surface liqui is absorbed, stur and cover the rice, lower the flame to low and allow it to steam for 20-25 minutes.
It's done with all the liquid is absorbed and the grains are fluffy and fully cooked.